Long after locally-hosted children's programs had been left in the dust of the 60's, Portland still had its own going. Now it is time to tell the tale of Rod Anders, his weekday morning television program, and why we all loved it dearly.
"Ramblin" Rod grew up in Multnomah County, and at first he was a radio man. His first media gig was on KTIL, a Tillamook radio station in the 1950's, where he played music on his guitar and sang for a Saturday morning program. This lasted until he was drafted for the armed forces, where he served as the official radio repairman (yes, that position existed in the Army). After his term ended, he got back into radio and filled voice positions at Klamath Falls' KFLW, Portland's KXL, and Portland's KPOJ.
While at KPOJ, Rod heard of an opening at Portland's first TV station, KPTV. Bobby Adkins, known on his children's show "Pier 12" as "Addie Bobkins," was leaving for a job in a TV station down south. Rod tried out along with six other entertainers for the morning spot by playing his guitar. He landed the position and "Pier 12" became the "Ramblin Rod Show" for over thirty years.
And through those years, all the other local kid-show hosts either lost their jobs to the growing syndication market or outright quit, except for Rod. He stayed on until August 1997, long enough for even a Portlander young as me to have fond memories of him. At the time of his retirement he had one of the longest old-school kiddie shows still on the air in the country.
The setup couldn't have been simpler....no puppets, no actors, no gimmicks, no nothing....just Rod and the day's latest crop of kids. He interviewed them, celebrated their birthdays, held "smile contests" and ran cartoons. If there was anything out of the ordinary, it was Rod's famous suit, always covered in buttons (though Rod always called them "pins"). The suit began its transformation with one button, a gift from a kid to Rod on the air; then other kids started doing it too. The suit started getting smothered in gift buttons, and it never let up from there--Rod always got at least one "pin" per show from a kid, and while he couldn't wear them all, he kept every last one of them.
Chuck E Cheese's was a large sponsor of the show in the 1980's, and for a time the birthdays were celebrated with men in Chuck E costumes dancing to a prerecorded rap, but the general structure for birthday visitors never changed: Rod brought the children up, had them stand in a row and always told them to "take a bow, or a curtsey."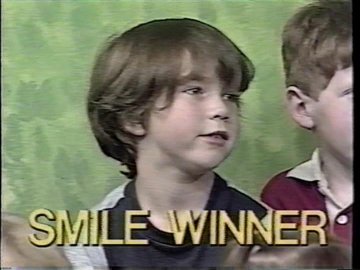 The other major event of the day was the smile contest. The children would all try to hold grins while the camera panned through every face, with "Electronic Can-Can" by Perry Ann Kingsley playing as the theme. If you're one of the ones that won it, it was by no special gift of yours. There was never an honest criteria in determining the winner. Occasionally there might have been a kid that caught attention, but for the most part winning a Smile Award was due to random choice. Of course, there were always the kids that would forsake their chance at the award by choosing to make a hilariously ugly face instead.
Other pieces of filler involved the children reciting their names one at a time, and Rod asking them where in the area they were from.
But the cartoons were what we were waiting for.......Rod introduced them all in the same triumphant way: "AND NOW IT'S TIME TO WATCH ANOTHER CARTOON HERE WE GOOOOO!!!" followed by a loud whistle (from Rod....he could whistle pretty loudly).

"HELP!! POPEYE!! I'M STANDING ON AN AMUSINGLY-PLACED STATION IDENTIFICATION BUG!!"
KPTV's full stock of Warner Bros., Popeye and Walter Lantz cartoons were trotted out daily. These got harder to catch as classic cartoons were dumped in favor of new children's animations, and now they aren't shown at all. Presumably, they're still down there somewhere in the basement, but there's no real way to know.
I remember one Walter Lantz cartoon entitled "SHHHH!!" It was about a man who had been diagnosed with a rare anger disorder by his doctor. How rare? He was told if he became angry one more time, he would blow up.
So he was sent to the quietest hotel in the world, and for the next few minutes, the entire cartoon was completely silent, with tactics like the cuckoo bird popping out of his clock holding a "COO-COO" sign. Suddenly the man is blasted with a barrage of loud music from the renter next door....who's holding a large party that won't quit, and turns out to be....the doctor. The man gets so mad at him that he blows up. The end.
It's been debated whether or not Lantz deserves to be mentioned in the same breath as Chuck Jones and Max Fleischer. I think this answers that question.
It's not entirely true that there were never songs or puppets......in the VERY early days of the show, Rod played his guitar and he had a puppet named Petunia. Exactly why he stopped using both things is unknown.
Shortly before Rod's retirement, he was bumped out of his decades-old time slot in favor of a new locally-produced morning show, Good Day Oregon. The remaining months of the show appeared on Saturday mornings, and without any children--just cartoons. The move got attention, and maybe we WOULD have firebombed KPTV if we hadn't been pacified by the decent treatment Rod got when he left the station. He was given a farewell party complete with an engraved plaque from KPTV and a cake customized to look like his famous suit. During retirement, Rod devoted his time to piloting his small plane, though he didn't have long to enjoy it. He passed away a few years after his final show.
It's not over yet! It's time for.....
RAMBLIN ROD VIDEOS HERE WE GOOOOOO!!!
FULL EPISODE!

Donated by Chris Read, this uncut Ramblin Rod episode from early September of 1987 is one of the best things this site has been sent. It's got all your favorite segments...plus Transformer commercials, a ten-second promo for the upcoming DuckTales show, and more!

Unfortunately it's developed a skipping problem, so every so often a second or two of footage will be missing. I asked for a second DVD-R from Read, but the problem remained. It must be the source tape.

Since the video is so big, it's been split into three parts. Enjoy!
RAMBLIN ROD BLOOPERS!


---

The most bizarre and surprising children's comments....
SCARY FACE!!!


---

What WAS this thing? It appeared every so often as a bumper either before or after a commercial break. It's unholy...take it away...
ROD'S OAKS PARK RETIREMENT PARTY


---

Speech! Speech! Speech!
THE LAST EPISODE


---

What was the very last remark Rod made? See it here...