"Hello everyone, I'm Howie!"
"And I'm Bobby!"
"And today's our special Mother's Day episode!"

"Uh-oh."
"What?"
"I think I read the wrong script. I thought this was the one where I get a rash!"
"Um....ah.....okay.....um......look, why don't you go run off and learn the script REALLY REALLY fast, and I'll run the credits....is the band ready? Uh, ROLL IT."

This episode was first run in May of '93 as a special Fox Kids Mother's Day promotion. Back then, though cable was really starting to bear down on it, network Saturday Morning programming was still around and ruling the weekend of kids like me with a tyrannical fist. Networks only gave children new programming from September through November, and that was all--then it was reruns until next year. Things were changing, however, and cable was forcing them to compete. You now actually HAD to air something interesting in May to win the May sweeps, or all the kids would stick with their Nickelodeon. One of the first things I ever saw that changed the longtime policy was this Bobby's World episode airing fresh in May instead of November. It's good enough to stand on its own, with no commentary from myself.
(bad German accent) "Mwa ha ha! They laughed at me, but no longer! Soon I will concoct the most PERFECT....the most PERFECT BREAKFAST EVER!! THEY WILL ALL BE SHOUTING MY NAME--"

"BOBBY!!"

Bobby lifts his glasses and says casually, "See, that's what I mean."

Kelly: "Like, what are you DOING??"
Bobby: "I was making breakfast in bed, for Mother's Day--"
Kelly: "DUHH, we're not making breakfast in bed! We all agreed we were going to take Mom on a surprise trip to Magic Land! Now clean this mess up!"
Bobby: "You shouldn't make me mad, Kelly. You wouldn't LIKE me when I'm mad.

I turn into THE BULK!!!"
"BLLLEEEAAAAGH, NO ONE TELL ME WHAT TA DOOOO!!"

Howie: "BOBBY, CLEAN THAT MESS UP OR YOU'RE NOT GOING TO MAGIC LAND!"

Bobby shrinks back down. "Except him."

"HEY, YOU'RE SITTIN' IN MY CHAIR, SHRIMP!"
"Don't get me mad, Derek....EEEEYYYAAAAAAGGHHH!!!!"
"Whyyyy? What are ya gonna do, CRY?"
Bobby shrinks back down again: "How'd he know?"

Howie: "Derek, stop teasing your brother....we are going to have a NICE DAY!! A NICE DAY WITHOUT ANY SQUABBLING!!"
Derek: "......."
Bobby: "Don't you think he's had a little too much coffee?"

"Ooooo, my gee-golly ears are buzzing! I'm getting PRET-TY CURIOUS about where you're taking me for Mother's Day!"
"Sorry Mom, it's a secret!"
"Heeey, no sugary cereal! Why doncha have some of my fiber flapjacks why doncha?" *gross looking plate lands near Bobby*
"No way! I don't want that garbage--I want Captain Squash Cereal!!"

"WELL FER CRY-EYE IN THE EYE, BOBBY, why can't ya eat what everyone else eats?"
"Cause he's not LIKE everyone else....he's gotta be a SUPER DWEEB, RIGHT SHRIMP?"

Ted bursts through the door like only Ted can. "Yer car's all gassed up and ready to go, Howard!"
Howie: "Wow, Ted, that was really nice of you."
Ted: "Oh it was no problem, after all, I used YOUR credit card! ....Chargedsomeextrasnacksonittoo."
Ted: "HEY BOBBO! C'mere, I got something for ya....TIME FOR NOOGIES!!"
Bobby: "I wish Ted gave presents that cost money."
Aunt Ruth: "Don't you worry Martha! I'll take GOOD CARE of the twins! I hope you enjoy your Mother's Day surprise."
Martha: "OH THANKS A MILLION Ruth! The kids are so GEE-GOLLY LUCKY to have you as an aunt, doncha know! There's lunchmeat in the fridge."
| | |
| --- | --- |
| Kelly: "Okay, now where we're taking you is a TOTAL ultra-super surprise, so you gotta put this blindfold on...." | |

Bobby: "Hey, there's my friend Tyrone! HI TYRONE!"

Bobby: "....Who are those people he's with?"
Derek: "His PARENTS, dweeb."
Bobby: "Well, then why do they look different from him?"
Ted: "Well, he's probably adopted."

Bobby: "Dopted?"
Derek: "That's what YOU are! THAT'S why you're the only one who hates Mom's pancakes!!"
Ted: "Ah, don't listen to him, Bobbo! Let me explain it to ya...a lot of the times, when a guy and his wife can't--"
Martha: "TED!!!"
Ted: "Okay, maybe forget that part, but what adoption is....it's kinda where you get to pick your family."
Bobby, elated at the misinformation: "YOU GET TO PICK YOUR FAMILY??"
Ted: "Yeah, sorta."

Bobby: "Wow! Hey, it looked like Tyrone is taking HIS mother to Magic Land too!"
Martha: "MAGIC LAND?? YOU'RE TAKING ME TO MAGIC LAND?? WELL KNOCK ME OVER WITH A FEATHER AND CALL ME YANKEE DOODLE, THIS IS A DREAM COME TRUE!!"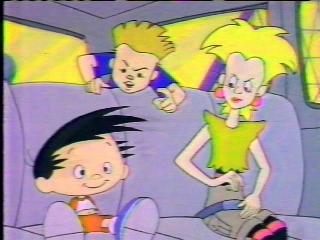 Derek: "GAH!"
Kelly: "ARGH!"
Kelly: "CONGRATULATIONS BOBBY, you just did it again! Like, you're always ruining surprises!"
Bobby: "I am not!"
"ARE TOO!" "AM NOT!" "ARE TOO!" AM NOT!" "ARE TOO!" "AM NOT--"
Howie: "EVERYONE STOP IT!!"
Bobby: "Is it just me, or is everybody picking on me?"
"WANNA GO WITH ME ON THE ROLLER COASTER, MOM?"
"Nah, I'll take ya later, ya know, when the line is shorter, doncha know..."

"I WANNA GO ON THE ROLLER COASTER NOOOOW!!" Bobby turns green and "bulky" again...

Bobby smashes several rides in the park, mangles the roller coaster, growls like a maniac and then grabs one of the spinning tea cups and elegantly drinks from it.
Back to the real world....

Howie: "BOBBY, STOP ACTING THIS WAY RIGHT NOW!!"

Bobby: "I can't help it! I've got a rash!"
Howie: "I'M WARNING YOU...."
Bobby: "Oops. Wrong script."

Bobby: "I wanna be like Tyrone. I wanna pick my family.....cause this family BITES IT!!"
"They're at the wire! It's...TIME FOR A COMMERCIAL!"
"By a nose!"