- December 19, 2004 -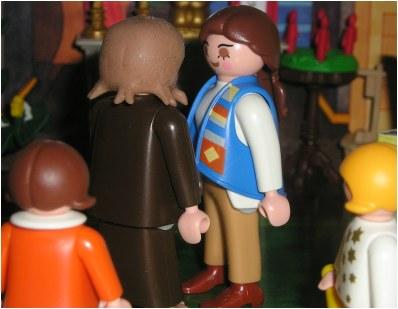 CLAIRE: I don't know how you pulled this off, Mare, but your psycho bitch can't beat Waiterbot.

MARE: I beg to differ, old friend! Megamare has twice the size, twice the strength and twice the thirst for blood as both of us combined. Vegas odds are on Megamare.

CLAIRE: How did you make this happen? What manner of black voodoo is this?

MARE: I used your own wand, fool! Next time, keep an eye on the only available instrument of your destruction. Idiot!



CLAIRE: Wait, that's my wand?! I thought you just found one that looked the same! How did you get my wand?!

MARE: My good friends Knacks and Kuse took care of that, Claire.

CLAIRE: The albino zitfaces?! I'll have their heads!

MARE: Yeah them. What's more, at this very moment, they're freeing Random Jim! Not a good day for Team Evil, huh?



JIM: Thanks for getting me out of that cage, guys. I was a starting to a lose a my mind. KNOWWHATIMEAN?! It's cold up in here.

KNACKS: Jim? Are you okay?

JIM: Yah snake I am, I mean I ain't ever get no hangover know what I'm saying? Now check this out: my father, right? He was inventing and is made of flour!

KNACKS: Kuse, he's gone insane!

KUSE: I think he's just looking for attention.



JIM: Magic spurs! Look what was inside today's gift box -- a big giant squirrel!

KUSE: Jim, that's a cat. Actually, that's the second cat Playmobil has given us. Claire made Waiterbot chew up the last one and set the remains on fire.

JIM: Okay good, I was gonna say, it'd totally suck if cardinals could talk, because they'd tell everyone all the awful things I do to birds in private.



CLAIRE: You think you're sooo smart, with your little followers and your butch ass girlfriend and your pretty blonde hair, don't you?

MARE: Claire, honestly...I just want everyone to have a nice Christmas.

CLAIRE: Well, too bad. It's not happening. I'm keeping all of the gifts, and Waiterbot'll snap your brawny Betsy's face in half as soon as I command it.

MARE: Are you issuing a formal challenge on behalf of Waiterbot? Because come on, I'm begging you, just give me the legal permission to let Megamare blow shit fucking up all over this December holiday.



MEGAMARE: MURRRE! MURRRE! ERRRRR I ACCEPT THIS MEAGER SOUP'S CHALLENGE! TOMORROW AT DAWN. MURRRRE. TOE TO TOE. MURRRR.

WAITERBOT: Claire, there's no way I'm fighting this crazy bitch. Come up with a different plan.

CLAIRE: So Mare, is it agreed, then? Crack of dawn, it's your Megamare versus my Waiterbot. Winner's team gets all of the presents.

MARE: Deal. Good luck, Claire. You're gonna need it.

MEGAMARE: DON'T WEAR MASCARA TOMORROW BITCH BECAUSE I WILL CAUSE CRYING. AHHHHHHH!

WAITERBOT: Claire! I'm not going through with this! I quit the team! I quit Team Evil!

CLAIRE: Forget it, Waiterbot. You're fighting, or I'll use my mind control to make you sleep in a bed of fire!

MEGAMARE: EITHER WAY, PAIN.



TO BE CONTINUED!