- December 20, 2004 -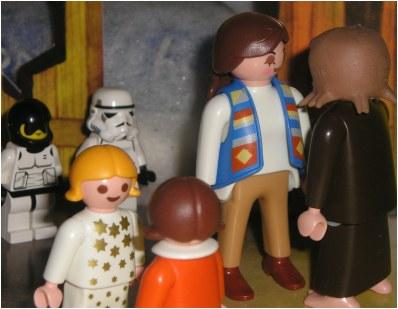 MARE: Well Claire, it's all come down to this. Our Megamare versus your Waiterbot. Winning team gets all of the presents.

CLAIRE: I haven't forgotten. Your jacked up beef slab doesn't stand a chance against my personally crafted mutant brain thing.



CLAIRE: Okay you freaks -- FIGHT!

MARE: Do it for us, Megamare! Do it for Team Good!



MEGAMARE: READY TO DO THE DANCE?

WAITERBOT: Look, I think we should establish a few ground rules before we start. No hitting below the belt, no eye gouging, no face stamping, no leg sweeping, no finger biting, no elbow bucking. Now please grab a feather from my left pocket -- that will be your weapon.

MEGAMARE: WHEN I CALL YOU "CHUM," I MEAN THE FISH BAIT!



MEGAMARE: TASTE MY HAND, TASTE IT!

WAITERBOT: Wait, wait -- no hand tasting either!



MEGAMARE: IT IS TOO LATE TO ADD MORE RULE THINGS -- TASTE FIST!

WAITERBOT: I don't want to taste fists, I don't want to taste fists!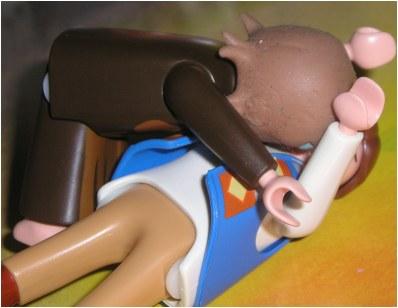 WAITERBOT: A ha! The tables have turned!

MEGAMARE: NOT TURNED -- MERELY TILTED!



MEGAMARE: HAVE YOU RIGHT WHERE I WANT. GIVE UP NOW OR FOREVER HOLD YOUR SPLEEN -- OH HO HO HO.

WAITERBOT: Claire, Claire! Throw in the towel, master! Throw it throw it throw it!



MARE: What's it gonna be, Claire? Gonna give up?

CLAIRE: Are you kidding?! Your horse will have to do better than that!



WAITERBOT: AHHHH! What are you doing?!

MEGAMARE: I HAD A NICKNAME BACK HOME. IT WAS "SURGEON."

WAITERBOT: AHHHHHH!



MEGAMARE: TO THE VICTOR GO THE LOSER'S HEAD!

MARE: Megamare! You did it! You beat Waiterbot!

KNACKS: I can't believe it!

KUSE: Yeah girl, good stuff.

WAITERBOT: My body! Noooo! My beautiful body!



CLAIRE: You haven't heard the last of me, Team Good. I will have my revenge.

MARE: Just take your pathetic little slugboy and get the fuck out of here. Next time, we won't be so generous.

MEGAMARE: THE FLAG PATCHES I WEAR REPRESENT COUNTRIES I HAVE CHOMPED. YOU WILL BE NEXT.

WAITERBOT: My body...my poor poor body...



LATER:

CLAIRE: We're through, toad! You let me down!

WAITERBOT: I don't care if we're through -- I hate you! I've always hated you! You ruined my life! This is your fault!

CLAIRE: Me? I, who gave you a body?! If it wasn't for me, you'd still be bit-playing along with the stormtroopers. I made you a star!

WAITERBOT: Ya made me a laughingstock, woman! Leave me alone!



MARE: Wow, guys, can you believe this? All of the presents are ours to share! Christmas is saved!

MEGAMARE: GIVE ME THE GIFT THAT IS EDIBLE.

KUSE: Mare, I gotta admit -- I was getting pretty worried there for a while.

KUSE: Not me, sire! I knew you wouldn't let us down!

MARE: Now now, I can't take all of the credit. Our pal Megamare is owed just as many thanks.

MEGAMARE: I'M REALLY TALL.



JIM: Hey whoa everyfive, clock to unseal this afternoon's wrapped-up! Carton ID #20. Eyes to this, what we have is a paint-by-number set! Queenpan!

MARE: Jim? Are you okay?

KUSE: Oh, right -- Mare, we forgot to tell you. Jim's all screwed up from being locked in that cage.

MARE: I'd shed a tear, but this is pretty amusing to watch.

JIM: I can jump on this spider two times and not take its life.



IN THE BACKYARD:

WAITERBOT: Little Kitty, where are you?! It's me, Waiterbot! I've lost my body! I'm small and worthless again, just like you! Come, let us share horror stories.

...Little Kitty? Are you here?



WAITERBOT: The bastard! She ate all the food and took off! I'm alone! Completely alone! Can today get any worse? Oh well -- joke's on her! With the amount of Super Cat Food she ate, there's no way Little Kitty won't explode!



WAITERBOT: ...but she liked me. :(



TO BE CONTINUED!