- December 23, 2004 -

MARE: Still no trace of Random Jim, eh?

KUSE: Sorry Mare. Dude's gone AWOL.

MARE: Oh well...no use crying over spilt milk, I guess. Can you believe it? Tomorrow is Christmas Eve!

KUSE: Okay, Jew here -- what's the deal with Christmas Eve? Why is the day before a holiday a holiday? Why a Christmas Eve and not an Easter Eve? Details, please.

MARE: It's hard to explain. I suppose it just comes down to Christmas costing way too money to plow through in one single day. For the bucks spent, we need a little more bang, y'know?

KUSE: So it has nothing to do with religion?

MARE: Christmas?! You're funny.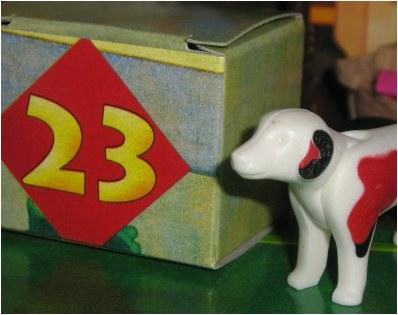 DOG: Arf, arf arf arf arf arf.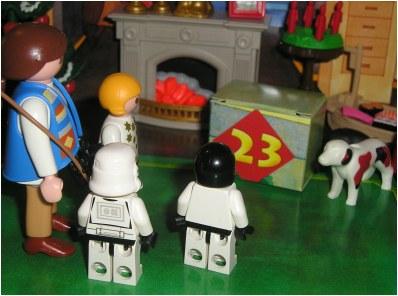 MARE: Criminy, he's right! We almost forgot to open today's gift box!

KUSE: What is he, Lassie? He probably needs to go outside to piss or something.

DOG: Arf arf arf!

MARE: See? That's dog speak for "open the box, because it's marked today and by golly it's almost tomorrow."

MEGAMARE: IF I EAT DOG WILL YOU BE ANGRY?

KNACKS: Oh, that Megamare. She's always hungry!



MARE: Guys, it's a sack of toys!

KUSE: Really? What kind of toys are inside?

MARE: Let me rephrase this. Guys, it's a permanently sealed sack of toys!

MEGAMARE: LOOKS LIKE HAM.

KNACKS: Oh, that Megamare. She's just beating it to death, isn't she?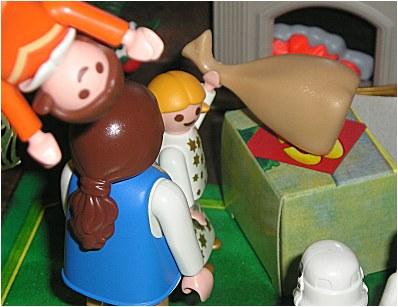 CLAIRE: FOR THE COLONY!



MARE: Claire?! Are you out of your mind?! You actually think you can take on all of us at one time?

CLAIRE: A bold belief, but yes, it's true. I'm gonna wipe the mat with the whole lot of ya.

MARE: Are not.

CLAIRE: Are too.

MARE: D2.

KNACKS: Score! Go queen go!



MARE: Megamare...care to take out the trash?

MEGAMARE: TO THE CURB WITH PEASANT GIRL.

CLAIRE: Hah, you think that otter can stop me?! I'm a real Mare, not some bio-engineered clump of stolen organs. Megamare is the Mewtwo to my Mew. Bring it on, Kraken -- BRING IT ON!



LATER...

CLAIRE: Fine, fine, you win. But rest assured, I'll have the last laugh.

KNACKS: What can she mean by this ominous statement, sire?

CLAIRE: I mean I SET A BOMB NEXT TO SANTA CLAUS AND JOLLY OL' SAINT NICK'S ABOUT TO EXPIRE, BITCHES!



KUSE: S--Santa Claus? The red guy? Mare, should we believe her?

MARE: What choice do we have?! We can't take the chance! We have to save Santa Claus!

KUSE: Wow, we're going to save Santa Claus? We're such a Christmas special.

KNACKS: Every child must be made aware!



TO BE CONTINUED!