- Christmas Eve, 2004 -

KNACKS: Mare, please! You can't do this alone! You need our help! Please, let me go with you! I'll be good!



MARE: I appreciate it, guys, really, but I've got to do this one myself. Technically, I brought Claire into this world. Remember, it was my DNA from which she was cloned. If that bomb kills Santa Claus and ruins Christmas, it'll be all my fault.

MEGAMARE: BRING BACK SANTA ALIVE.

MARE: Thanks, Megamare. I was a little unclear of my intentions.

KUSE: Mare, don't be sarcastic.

MARE: I'm sorry. I'm just tired is all.



MARE: Knacks, Kuse...you're my friends, and I love you. I'll never forget you no matter what happens, and I hope you'll never forget me. Now, please, don't let Claire escape while I'm gone. After I save Santa, we'll need his help to put a stop to her madness once and for all.

KNACKS: My queen! You speak as if we'll never see each other again! Everything's going to be fine, isn't it?

MARE: I wish I could promise that, Knacks. Just remember, I will always be your friend, no matter what.

KUSE: You two are depressing the fucking hell out of me.



MARE: Wish me luck, guys!

KUSE: Hey! She sprouted wings! She's never done that before!

MARE: Have too.

KUSE: Have not.

MARE: Have three.

KNACKS: Yes! You've still got it, my queen!



KNACKS: Kuse, do you think she'll be okay?

KUSE: Not really. Bad payoff for an awfully long setup if she doesn't die out there.

KNACKS: I miss her already.

KUSE: She was a good woman, Knacks.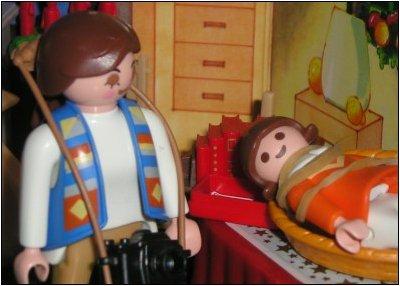 MEGAMARE: THIS IS ALL YOUR FAULT, YOU KNOW.

CLAIRE: I'm proud of what I've done, you dolt! That wannabe you call "Mare" never thought to blow up Santa Claus. Ooooh, she melted a snowman! How cruel! How noteworthy! I'm the true queen of evil!

MEGAMARE: YOU'RE ALL TIED UP. I SHOULD TAKE THE PICTURE OF IT.

CLAIRE: Go ahead, I'm laying on my good side. I've got nothing to hide.



MEANWHILE...

MARE: Oh shit...she wasn't lying. That's definitely a megabomb. And it looks like it's about to go off!



MARE: There's no time to waste! Where did she find all of this giant tape?! Black magician!



MARE: GOT IT! SANTA'S SAFE!



MARE: Oh my God, I really did it! I saved Santa Claus! I saved Christmas! He'll live! He'll deliver the presents! He'll kill Claire! I feel like caroling!



MARE: Oops, forgot to roll away from the bomb. I knew I was forgetting something.



MARE: This probably isn't good.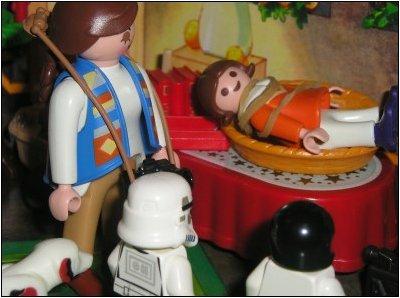 LATER:

KNACKS: Claire, you're the worst person who ever lived!

CLAIRE: Then I got what I wanted for Christmas.

KNACKS: Mare better come back unharmed, or we'll let Megamare eat you.



KNACKS: That's right, Claire. We're just gonna sit here and stare at you until Mare gets back. Isn't it unnerving?! Nothing will distract us!

MEGAMARE: IF I STARE LONG AND HARD ENOUGH THERE ARE TWO OF YOU.



SANTA: Uh, guys? Santa in the house.



TO BE CONTINUED!