- December 7, 2004 -

KNACKS: Wow, this place is amazing!

MARE: I've been coming here like, forever. Wait till you try their spicy tuna roll. It's out of this world.

KUSE: Check out those dudes sitting over there. Think they're a couple?



KUSE: Hey, hey wait a second. This isn't real marble!

MARE: Kuse, you gotta learn to enjoy life a little. So what if it's not real marble? It's not like there's a sign outside that says "Come On In -- REAL Marble Inside!"

KUSE: Yeah Mare, actually, there is. Hence the complaint.

KNACKS: I don't know what these things in front of me are, but I can't reach them!



MARE: Finally, our first course! Have you boys ever had this stuff? It's miso soup.

KUSE: I have a request. If either of you get drunk tonight, can you refrain from using the soup as an excuse to make "Miso Horny" jokes? I'm begging you here.

KNACKS: Mare, I don't know what to order!

MARE: Just order one of the combination specials. Try a little bit of everything.

KNACKS: Awwww, I dunno. I've never had sushi before. I don't even know if I like it!

MARE: Well, the combination specials are served on wooden boats. Wooden boats, Knacks.

KNACKS: Give me three of everything.



KUSE: Here is your order, sir. Six pieces of octopus and two flying squid rolls.

KNACKS: Mare YOU SAID THIS PLACE HAD CHICKEN!

MARE: That's at the hibachi in the other room. But you can't smoke in there.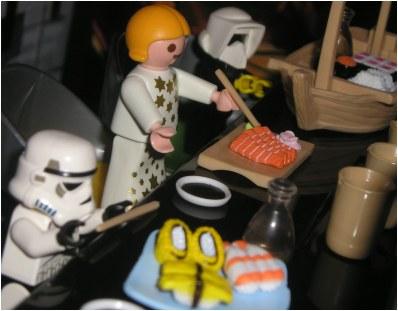 KUSE: Good God, I don't know where to start.

MARE: Start with the California rolls. Everybody who claims to have eaten sushi so as not to look uncultured in front of their friends does.

KUSE: What are you insinuating?

MARE: You're a virgin to fish of all kinds.

KUSE: Funny, really, that was funny. What are you eating?

MARE: California rolls.



KNACKS: Queen Mare, I'm not sure I like sushi. Can we go somewhere else?

MARE: Are you kidding? It takes a year to reserve a table at this place.

KUSE: A year?! You made the reservations last night! Are you claiming that you made these reservations a year ago, from beyond the grave, somehow cognizant of the fact that you'd need a place to stage a Christmas tree celebration on this very night?!

MARE: Dude, I told you yesterday. Death gave me foresight.



KUSE: What's this crap in the jars?

MARE: Sake. Tastes like shit but gets you wasted quick.

KUSE: Sake, you say?



-- ten minutes lata --




KNACKS: OHMYGOD OHMYGOOOD I'M SO SUCH A HAMMERED HAMMERHEAD!

MARE: Toot toot toot toot...TOOTIE!

KUSE: ...guys guys you're not listening my mother never treated me right no really i MEAN it my mother never treated me right...

MARE: Okay, let's all sing television theme songs as loud as we can!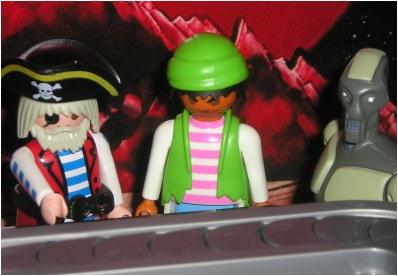 PIRATE BOB: Waiter, waiter -- can you do something about those idiots? Thar be ruinin' our eatin' experience, the lousy landlubbers!

WAITERBOT: I'll see what I can do.

PIRATE JACK: Make 'em walk the plank.

WAITERBOT: Okay, pirates, settle down -- I'll handle it.

PIRATE BOB: We ain't PIRATES!



MARE: Holy Mary Mother of HEY-ZEUS, I am fucking LOADED.

KNACKS: ME too. I lost my helmet. HAHAHAHAHAHAHAH

KUSE: I didn't even notice that you didn't have it on! HAHAHAHAHAHAHAH

KNACKS: HAHAHHAHAHHAHA

MARE: GUYS, look at me, I have something to show you...



MARE: My eyes are sushi! AHHHHHHH! AHAHAHAHAHAH

KUSE: Dats da jingle bell, dats da jingle bell, DATS the jingle bell BLAHHHHHHH!

KNACKS: Wait wait GUYS look over here!



KNACKS: ROE ROE ROE YOUR BOAT, GENTLY DOWN THE SASHIMI!



KUSE: Mare, Knacks -- TADA! I proudly present MORE SPARKLE JUICE, along with green hot snot!

MARE: Just pour it down my DRESS!

KNACKS: Just pour it down HER DRESS!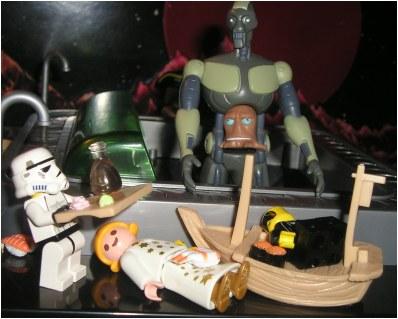 WAITERBOT: Excuse me, pardon me -- I'd like to ask the three of you to please quiet down a bit. We have other customers here and we'd like them to have as pleasant an experience as possible.

MARE: Well we have JUST ONE THING to say to that, Mr. Waiter Robot! Okay boys, on the COUNT OF THREE! ONE! TWO!



ALL: YOUR BRAIN IS IN YOUR STOMACH, TRALALALALA!

WAITERBOT: Okay, get out. Now.





-- later that night... --


MARE: My head is swimming in Japanese samurai blood.

KNACKS: Mine too.

KUSE: Wait a second...we forgot to open today's gift box!

MARE: Get it. I can't stand up or I'll fall down and I'll die.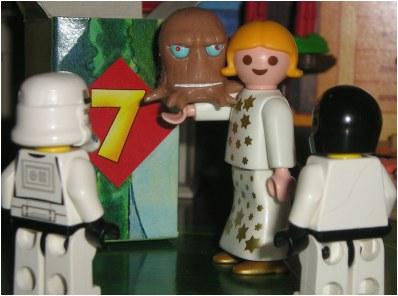 MARE: Hey, it's the waiter brain from dinner!

KUSE: What?! How can he be in there! We saw him two hours ago!

WAITERBOT: Pardon the intrusion, I mean you no harm. You folks got me fired. I have no place to go. It is your duty to take care of me until Christmas.

KNACKS: I'm wearing a different helmet now but I can't remember why.



WAITERBOT: This is the real gift from the box I popped out of. I think it's equipment for your breathtaking fireplace.

KNACKS: That present kinda falls flat after the whole waiter brain thing.

WAITERBOT: So can I stay with you guys? Just until Christmas?

MARE: Sure, why not? What's your name, anyway?

WAITERBOT: Einstein.

ALL: ......

WAITERBOT: My parents thought it'd be funny.



TO BE CONTINUED!